Ready to swap those short-lived orgasms that leave you irritated and unsatisfied with heart-opening, toe curling, deep orgasmic releases?
Instead of being fully present and enjoying the juicy build-up of arousal, you're thinking of tomorrow's to-do lists, if you've shaved, if you look okay in that position, if you replied to that email…. 
OR 

You finallyyyyy get to the orgasmic finale and you're left a little like… 'was that it…' because you haven't allowed yourself to truly let go and receive that heart-opening, juicy-as-fuck full body release that you're craving.

No matter how you're feeling on a scale of 'that was a waste of time' to 'MULTI ORGASMIC TOWN', I'm here to teach you how it can get even BETTER!
I know what it's like to feel pressure in the bedroom, to fake an orgasm just to have it over and done with...

But performing in the bedroom, faking orgasms and not truly understanding what you need to hit the climatic finale is holding you back from having wildly ecstatic orgasms!
Orgasm is a skill that you can learn and get better at! It requires you to learn specific somatic tools to get out of your head and into your body, powerful techniques to move through your orgasmic blocks (in the moment) and sexy strokes that actually build arousal!

Whether you're rocking it solo or in a relationship, I'm going to teach you how to get yourself off with the most practical and holistic tools so that you can reach euphoric states of bliss, pleasure and ecstasy!

The Orgasmic Woman is a hands ON practical guide to getting you OFF!
No more fake it til you make it… we're going out with a BANG in the bedroom ;) 
No matter where you are on your pleasure journey, over these 5 weeks you'll have sexy new skills, pleasure practices and somatic techniques at your fingertips to unlock your deepest orgasms yet.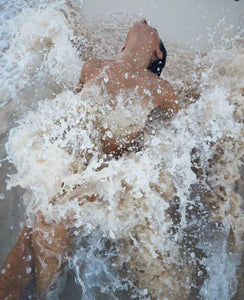 If you're ready to
Leave your heady, stressy thoughts at the bedroom door and learn how to fully relax into your body in a matter of minutes
Learn how to have mind-blowing internal orgasms that leave you feeling like you've been micro-dosing LCD all day!
Learn how to fully surrender and let go in your mind and body rather than tense up only to experience...nothing!
Finally join The Big O club and master what it takes to reach your first orgasm during self-pleasure
Release the pressure and performance in the bedroom and embody your true *authentic* sexual nature
Feel totally comfortable and confident pleasuring yourself and knowing exactly what gets you going
Join me for a 5-week deep dive into the world of all things orgasmic mastery! Unlock your deepest most ecstatic orgasms with somatic tools and embodiment practices that will set your desires alive and unlock the secrets to becoming wildly orgasmic.
We start 30 October
Your Pulsating Journey Ahead
The Orgasmic Woman is a 5 week intensive journey helping you unlock bigger and better orgasms. It will teach you exactly how to get yourself off with the most practical and holistic tools and techniques so that you can reach euphoric states of bliss, pleasure and ecstasy!
Every Monday you'll receive a fresh drop of educational videos, embodiment practices like self-pleasure, mindful touch practices or meditations and self-reflective workbooks.
90MIN LIVE GROUP COACHING CALLS: (these will be recorded if you can't make them)
WEEK 2: Saturday 11th November 9-10:30AM NZDT
WEEK 4: Tuesday 21st November 7:30-9PM NZDT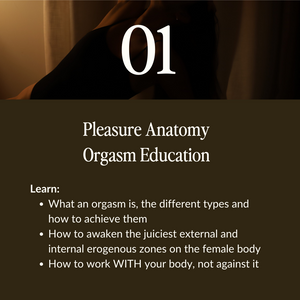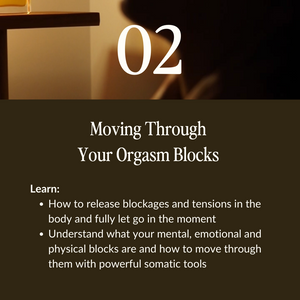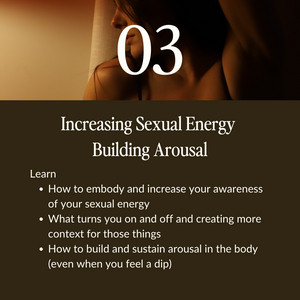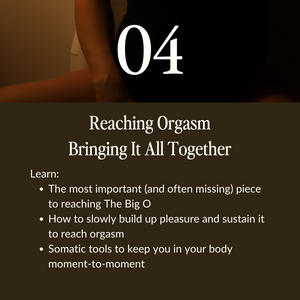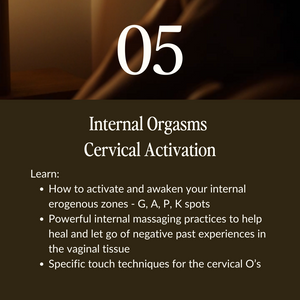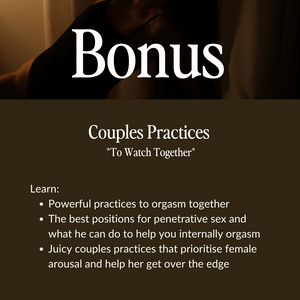 What you'll receive
5 Weeks of practical and educational resources that will consist of video modules, audio guides, playlists and workbooks
2x Live 90min group coaching calls to go deeper into female sexuality, orgasm and the practical steps it takes to achieve your orgasmic goals. You'll also have the opportunity to have your personal questions answered and coached through your blocks
Free access to 'The Sexual Body' online retreat in November (worth $250NZD) - we'll be activating our sexual power, creating action plans for 2024 and anchoring back into our pelvic bowls to reignite that sensual fire again - Sunday 9am NZDT 26th November *For the first 10 sign-ups*
*Bonus* Couples Module with embodiments practices, educational videos and workbooks specifically designed for couples to do together!
Lifetime access to the course
I've been there.
From faking orgasms to performing in the bedroom to not sharing my needs to feeling deeply unfulfilled.

I had no education, no understanding of female pleasure, and no idea about female orgasms. It was years before I even had the confidence to speak up when things weren't feeling good because I was scared of killing the mood.

After training with somatic sexologists, tantra practitioners and becoming a holistic sex coach, I've made my mission to educate and empower as many women as possible to make their pleasure a priority in the bedroom and reach the big O!

The Orgasmic Woman was created for the woman who wants to go beyond the textbook and get practical and physical. And who wants to do it alongside other inspiring women - with a dash of fun and play thrown in there because learning about orgasms should be fun!
I can't wait to see you inside, let's end the year with a BANG, literally!
All my love
Mel x
Orgasmic Woman will be opening again in 2024! Hold onto your knickers!