Next enrolments will open up in 2024.
The Intimate Woman
A woman who is intimate with herself is a woman who is rooted in her power!
She clearly communicates her needs, wants and desires without shrinking or shaming herself.
She embodies the truth of her heart and doesn't crumble to please others.
She owns her radiance and is a permission slip for other women to do the same.
She trusts and listens to what her body is communicating and moves with the pulse of her intuition.
She turns heads, not by being the loudest, but by being her magnetic, embodied and empowered self.
She is aware of her needs, wants and desires and confidently expresses them without hesitation.
She boldly advocates for her own pleasure and places it at the forefront of her priorities.
She is, The Intimate Woman!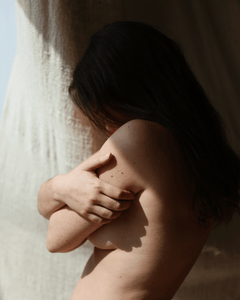 In a world that encourages us to reach for quick fixes...
It is essential to remember that your heart, body and pleasure is the source of your vitality and power!
It starts with your HEART - feeling your emotions, loving who you are at your core and authentically expressing from this place.
It starts with your BODY - attuning to sensations, moving with awareness and rediscovering the sanctuary within.
It starts with your PLEASURE - harnessing your sexuality and sensuality to build confidence, empowerment and feminine aliveness.
It starts by connecting with your intimate self!
Intimate is a journey of sexual self-discovery and embodiment. It will teach you how to move through life deeply connected to your heart, body and pleasure and why this is the only way to live if you truly want to step into your feminine power as woman.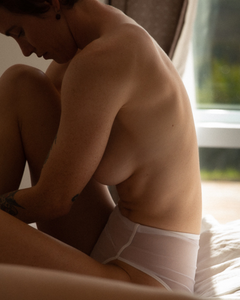 This space is for you if you...
Don't know where to start on your journey of getting intimate with yourself, you need a clear road map, and professional guidance to help you move past your blocks and back into a deep loving relationship with your heart, body and pleasure
You want to create strong, sexy foundations of deep intimacy with yourself first and foremost; the idea of reconnecting back to your pleasure and exploring your body excites you
You feel flat, lost and completely out of touch with yourself; you're looking for a safe and intimate space to help you reconnect with these lost parts of yourself
You've learnt some of the basic stuff about sex, pleasure and embodiment through books or IG but you're ready to dive deeper on a more personal level
​​You feel like you're constantly living in your head feeling overhwlemed and you're ready to start living IN your body
You're deeply yearning to embrace your body, explore your desires without shame and fully own who you are as a woman!
"This course changed my life. I learnt so much about myself by getting out of my head and into my BODY which felt so liberating."
Our Intimate Journey
An online retreat, 7 transformational modules and live coaching calls and teachings that will awaken sexual vitality, build unshakeable confidence and empower you to embody the woman who is deeply devoted to her heart, body and pleasure.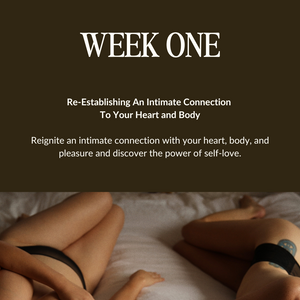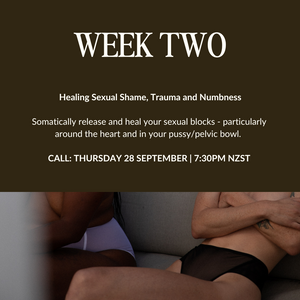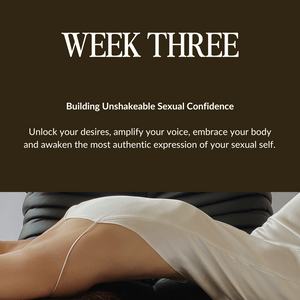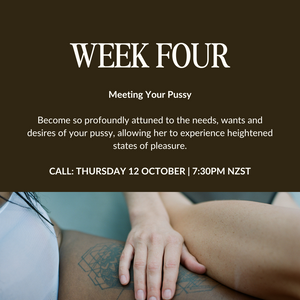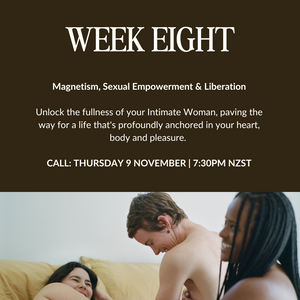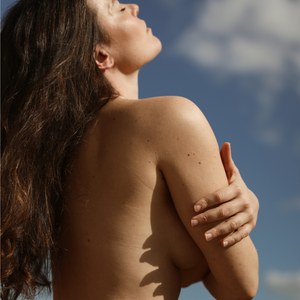 What you'll receive
The Intimate Experience Online Retreat - A 3-hour mini online retreat with breathwork, meditation, movement, journaling, intention setting and coaching.
4x Live 60min Zoom calls to go deeper into sex, self-love, intimacy, healing and pleasure. These are broken into two parts - embodiment practice and then coaching/teachings so you have live support to work through what's coming up for you.
A weekly release of video modules and embodiment practices to help you embody the teachings on a deeper level
Private Voxer group for our intimate group of women so that you can receive support between our sessions to help keep the momentum going and move through blocks and limiting stories that come up as we dive into the work (this is absolute GOLD!!!)
Lifetime access to the course
All live calls will be recorded and will be available in the portal for 6 months.
"It has been a powerful and life changing experience and I came out not only feeling deeply connected but full of self love. Intimate has changed me forever."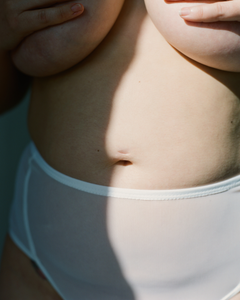 Inside Intimate you will:
Master the art of living IN your body and using your body as a tool to move through emotions and return back to centre
Unlock new pleasure pathways and accessing heightened sensitivity in your body and pelvic bowl
Expand your knowledge around sex, pleasure and orgasm
Transform the relationship you have with your body 
Lead with your heart and deeply trust yourself as a woman
Become unshakeable and fiercely devoted to your needs, wants and desires
You're here because...
You're ready to have a deeper relationship with yourself after being disconnected for so long.
You're ready to put yourself first, trust your body and listen to what's on your heart.
You're ready to acknowledge what you've been ignoring and pushing down and finally move through it.
You want a toolkit of powerful embodiment practices so you know how to move out of sticky and undesirable feelings like anxiety, stagnancy, stress and overwhelm.
You're craving more depth and intimacy with yourself and your partner.
You're ready to reconnect with the deeper parts of being a woman who owns her sexuality and takes up space in the bedroom.
You're here, because you're ready to get Intimate with yourself.
It's time my love!!
About Melissa
Certified Holistic Sex Coach
It wasn't until I walked out of my first sexuality workshop in 2015 in Ubud, Bali that I realised how disconnected I was to my heart, body and pleasure.
I finally admitted to myself (and my partner at the time) that I had been performing in the bedroom, not communicating the truth on my heart and was always chasing the orgasm.
Soon after this workshop I became deeply devoted to learning more about myself; flying around the world, training with tantric masters, working with somatic sexologists, so that I could cultivate the most sacred and intimate relationship with myself.
Unravelling these aspects of myself led to an incredible feeling of liberation and empowerment. This intrinsic essence that resides in our bodies holds the key to our freedom and unshakable confidence. The more we lean into understanding these intimate parts of ourselves, the stronger our connection to our feminine essence becomes.
If this feels scary but exciting, trust that pull. Whatever is on the other side of this feeling has the potential to change your life! I can't wait!

Melissa xx
"I have done all the things but still felt something was missing and then I found Mel and Intimate. I have learnt life long tools that I know work and I can drop into at anytime"
"A 'permission slip' to explore myself with no shame attached. Which is exactly what I did - through the most beautiful, sensual practices and meditations, all while being held in sisterhoo. I am so empowered and excited to live from this new space I have created within."
"It taught me how to begin to have a relationship with myself and especially my body, after being so disconnected for so long."
"Intimate gave me so much more than what I expected. I dived deep into areas I had tried to push down but they were affecting me more than I realised.  To open up, feel and release was absolute magic."
This program is closed for enrolments.
Enrolments will open up again in 2024.