The Embodied Feminine
It is my deep belief that your body and sexuality is your sovereign ground. It is something that no-one can take from you, and no-one can give to you. You have to claim it for yourself.
The Embodied Feminine is a 2-day immersion created to offer a safe & supportive retreat space for women to come together, soften into their sensuality and rediscover their true sexual nature.
Details
26 & 27 November 2022
9am-4:30pm
Kula Muriwai, Auckland
A 2-day sensual experience facilitated by Certified Holistic Sex Coach Melissa Vranjes
Do you feel disconnected to your feminine body, consistently tired & numbed out to your own sensuality and pleasure?
You are not alone.
This seems to be the norm for the modern day woman. I've been right there with you sister. And I've learnt just how important it is for us to slow down, create time to feel our bodies, reconnect to our sensuality and open our hearts to pleasure. Our sensuality is a powerful tool to bring us back into the body, unravel stress in the nervous system and come home to our bodies.
The Embodied Feminine retreat has been designed to:
~ Reconnect and resensitise you to the exquisite intelligence of your sensual body.
~ Restoke the flames of aliveness, pleasure and sensuality in your sacred feminine body + build more awareness for your capacity to experience deep pleasure.
~ Rediscover your full orgasmic potential and remember the juiciness and passion that lives within your heart and between your gorgeous thighs.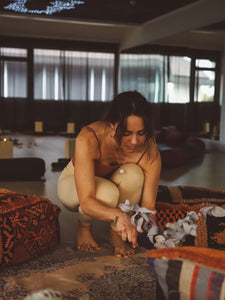 We will be exploring
Daily morning & afternoon embodiment practices that will allow you to feel your heart and open you up to more aliveness and energy in your pelvic bowl
Empowered female sexuality education - pleasure anatomy, the infinite erogenous zones and how to wake them up so that you can feel confident and connected to your sensual body
Embodiment practices that move shame, disconnect and old limiting beliefs out of the body so that you can make room for your liberation and empowerment to enter
Daily discussion groups exploring all things woman: pleasure practices, how to stay in your body, embodied confidence in the bedroom and raising your standards of self-worth, self-trust and feeling enough
The Art of Erotic Dance - tapping into your own eros and erotic nature within your feminine body to ignite your own inner magnetism

And much much more.....
This is for women who:
Are ready to move, shift and show up in a more embodied and empowered way - full of deep self-trust, enoughness and worthiness
Craving to ignite and feel more confident, energised and sensual in their feminine bodies
Want to open up to more self-love, ecstatic pleasure and orgasmic power
Are ready to heal the parts of them that feel broken, numb and disconnected and shed the layers that no longer serve their sensual selves
Want to drop into a super intimate, loving, safe and supportive space with the most exquisite like-minded women - this is the magic juju
Want to end the year off with a liberated bang! - Connected to your desires, alive in your body and open in your sensual heart
What's included..
~ Embodiment practices, delicious group discussions, intimate Q&A sessions, yoga, meditation, breathwork, intimate self-practices, coaching, education
~ The chance to receive personalised advice from Melissa and ask your private questions in person (she'll be available during lunch for support)
~ Daily locally sourced, nutrient dense, garden to table lunch feasts (GF, veg & vegan options avail)
~ Organic, raw and healthy snacks + specialised tonics and booch
~ Yoni Egg pleasure kits (worth $100)
~ Cacao and tea ceremonies
Retreat Investment
Unbelievably excited to gather with you and spend a whole weekend in devotion to the feminine body, sensuality and pleasure. There are only 12 spaces for this weekend retreat to keep it small, intimate and cosy.
Your Facilitator - Melissa Vranjes
Melissa Vranjes is a Certified Holistic Sex Coach, educator, speaker and group facilitator. She has spent the last 6 years diving deep into female embodiment, sexuality, and women's work around the globe. She is the founder and head teacher of New Zealand's holistic sex education platform The Classroom by Melissa Vranjes™.
With a passion and mission to make sex more mainstream, Melissa travelled the globe to train with world-class sexuality teachers, somatic sexologists and embodiment coaches. Melissa is known for her practical, passionate and fun approach to holistic sex making women feel safe to open and explore their bodies without shame.
Her work has been featured globally in Grazia Magazine, Australian Women's Health and YahooLifestyle.
Melissa's mission is to create safe and empowering spaces for women to come home to their bodies so that they can harness the power of their sexuality and experience more embodied pleasure in life (plus a ton of orgasms)!